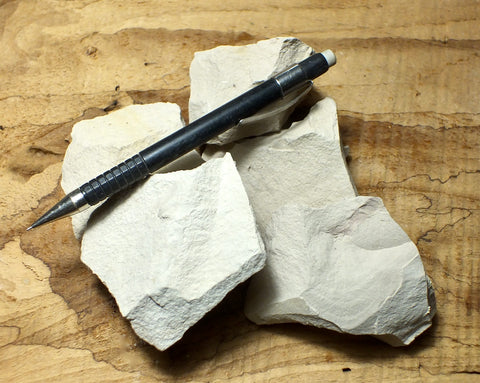 mudstone - teaching student specimens of diatomaceous mudstone from the Sisquoc Formation, Santa Barbara County, Calif.
$ 4.20
Mudstones and shales are at the small-grained end of the sedimentary rock spectrum. Mudstones contain clay and in this case, diatoms. Shales are harder but have a similar grain size. Students ought to be able to give the sedimentary rocks in order of grain size, from mudstone and shale, siltstone, sandstone and conglomerate. Generally, in mudstones and shales, the clasts (sediment fragments) are not visible to the naked eye. Students should also note the clayey feel of the surface of these specimens. The light color is due to the diatoms.16 This diatomaceous mudstone is Upper Miocene to Lower Pliocene in age. It was deposited far offshore in a marine environment at depths between 500 and 5,000 feet, as a fine mud rich with diatoms. The Sisquoc Formation overlies the Monterey Formation, the source rock for much of the  oil produced in California. Both formations contain diatomite, which the French company, Imerys, mines from the Monterey and the Sisquoc near Lompoc, California, not far from where this was collected along the Santa Ynez River. That mine is the largest diatomite mine in the world.
Making multiple purchases? Click on the "combine shipping" button in the shopping cart. We'll send an invoice with combined shipping. A link in that invoice will bring you back to checkout, no hassle.
Ships in a Regional Priority Mail box and can share that box with other purchases. Please request an invoice to avoid overpaying shipping, by clicking the "combine shipping" button in the cart.  Click > here < for shipping rates. Use back button to return to this page.