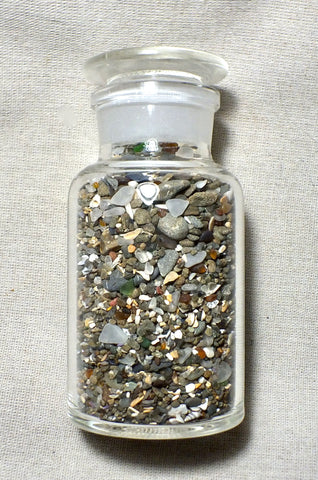 2 left
sand - beach sand with a high percentage of glass grains - 250 ml display bottle with ground glass stopper
$ 11.80
For years residents at Ft. Bragg, California threw their trash over the bluff into the Pacific. Cars, old shoes, everything. Some time ago the trash was almost all cleaned up, but the glass remained to become part of the sand. Glass Beach is a part of a state park, where collecting is not permitted. However, the longshore current moves sand southward along the coast in California, and small coves south of the park have a high percentage of glass grains in the sand. In the state park, the beach is almost 100% glass grains.

Sand is made of whatever material is available, and this is a good example. The old shoes sticking out of the bluff haven't contributed, but the glass certainly has.
These bottles are 250 ml, 5" high, with a ground glass stopper, and make a good display. Note that these have been affected by covid. No germs, but bottles from our regular supplier look like they were made by someone working remotely, grinding the stoppers by hand. Formerly the neck of the bottle and the stopper were machine ground and fit perfectly. Now the fit is loose, so we ship these with a cork, but supply the "rustic" glass stopper along with the cork until we run out of "covid specials" and can get machine-ground bottles again.
Shipping: By Priority Mail. Click > here < for shipping rates. See comment at Note! Use back button to return to this page.
Making multiple purchases? Click on the "combine shipping" button in the shopping cart. We'll send an invoice with combined shipping. A link in that invoice will bring you back to checkout, no hassle.