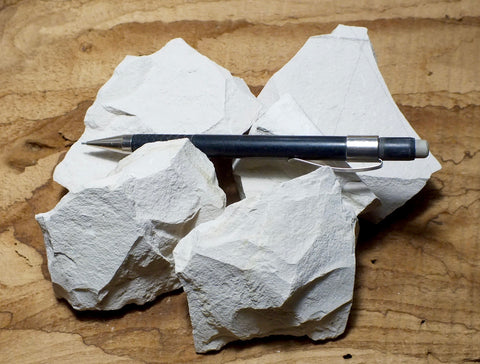 magnesite - teaching student specimens of light tan porous magnesite from the Windous Butte magnesite deposit, Nevada - unit of 5 specimens
$ 4.20
Magnesite - MgCO3
Magnesite, magnesium carbonate, is usually earthy or granular, but it can be massive vitreous or crystalline. This particular magnesite is the earthy form. When first discovered in Muddy Valley, Nevada in the late 1800s, vitreous magnesite was thought to be kaolin and plans were made to mine it as such. In 1915, before mining could begin, a specimen sent to the U.S. Geological Survey was identified as magnesite.
Magnesite, when powdered by taps of a geologist's hammer, will effervesce with hydrochloric acid. An alternate test is to scrape the magnesite on a streak plate to produce a powder. A drop of hydrochloric acid will produce the effervescence, but it can be subtle. This tan magnesite is porous and will stick to the tongue. It readily effervesces with HCl because of its high porosity.
These specimens were collected at the Windous magnesite deposit, near Windous Butte, roughly 20 miles west of Ely, Nevada. The deposit, apparently hydrothermally altered volcanic ash, was mined in 1940-41 by Westvaco Chlorine Products Corp. The mine is inactive, but vitreous specimens from this deposit have been dyed and sold as turquoise.
Compare this magnesite with the earthy magnesite we collect from the Kramer Hills near Boron, California.
Shipping: Priority Mail small flat rate box unless combined with other purchases. Click > here < for shipping rates. Use back button to return to this page. 
Making multiple purchases? Click on the "combine shipping" button in the shopping cart. We'll send an invoice with combined shipping. A link in that invoice will bring you back to checkout, no hassle.