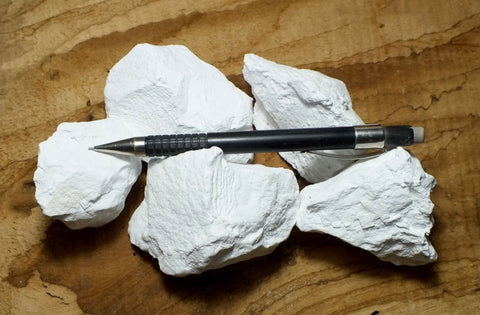 3 left
kaolinite - soft kaolin - teaching student specimens of the primary constituent of kaolin clay - Unit of 5 specimens
$ 4.20
kaolinite   Al4(Si4O10)(OH)8            Unit of 5 student specimens
Kaolinite is the primary constituent of kaolin clay. Its physical structure is like a sandwich, with aluminum hydroxide layers, called gibbsite layers, bonded to silicate sheets. These sheets are electrically neutral, so they are bonded by very weak van de Waals forces, easily sliding apart to give kaolinite its softness and greasy feel. It has a similar structure to minerals in the serpentine group.
Rocks with a silica-rich composition that contain aluminosilicate minerals weather to clays. This kaolinite was formed by the hydrothermal alteration of Pleistocene lacustrine sandstone and the underlying rhyolite. The sandstone was derived from granitic rocks, which contain abundant feldspar and after hydrothermal alteration or weathering are a common source for kaolinite.
Because kaolinite does not absorb water, it does not expand when it comes in contact with water and is the preferred type of clay for the ceramics industry. It is also used as a filler in rubber and in paper, paint, plastics and cosmetics.
This kaolinite comes from the inactive Huntley Kaolinite Mine in Mono County, California.
Shipping: By USPS Ground Advantage. Click > here < for shipping rates. See comment at Note! Use back button to return to this page.
Making multiple purchases? Click on the "combine shipping" button in the shopping cart. We'll send an invoice with combined shipping. A link in that invoice will bring you back to checkout, no hassle.