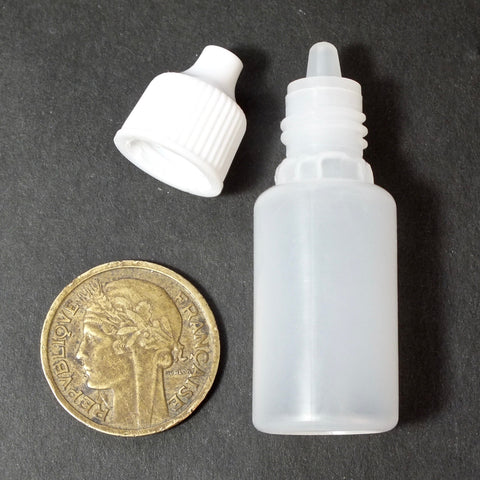 acid dropper bottle, 10 ml polyethylene with screw-on cap
$ 1.00
Low density polyethylene plastic dropper bottle, 10 ml. The dropper top can be pried out to refill, and a screw-on cap keeps your pocket safe, for those of you who carry an acid bottle in the field. We can supply these empty or with about 4 ml of dilute muriatic acid, enough to field test for calcium carbonate. The small quantity of acid allows them to ship safely. Same price, dry or with acid.
Muriatic is the non-reagent grade of hydrochloric acid and is used to adjust the pH in swimming pool water. It is also sold in building supply stores for use in cleaning bricks and stonework. It identifies rocks and minerals composed of calcium carbonate, with a strong bubbling reaction that releases CO2. 
In application, the bottle is tilted so the tip is down and then is touched to the specimen in question. Enough acid is transferred to make the test - you usually don't have to squeeze, and if you do, it just releases a drop, not a stream.
Let us know if you want them dry or wet.
Making multiple purchases? Click on the "combine shipping" button in the shopping cart. We'll send an invoice with combined shipping. A link in that invoice will bring you back to checkout, no hassle.
Shipping: in a First Class package unless combined with other items. Click > here < for shipping rates. Use back button to return to this page.