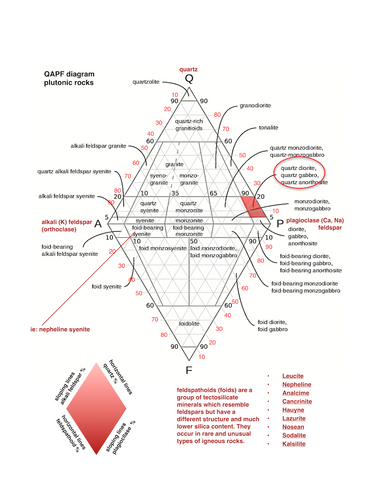 Sold Out
quartz diorite - teaching hand specimen of a subduction-related granitic rock
$ 7.50
Back in stock soon. Inquire.
Quartz diorite is intermediate between gabbro and granite and is often associated with subduction and the emplacement of subduction-related batholiths. It has a composition similar to the andesite of volcanic arcs.

Commonly speckled black and white, quartz diorite is a member of a group of plagioclase feldspar-rich plutonic rocks, ranging from diorite with less than 5% quartz, to quartz diorite with 5% to 20% quartz to tonalite with over 20% quartz. The black mineral in this quartz diorite is biotite. The quartz diorite was emplaced in Late Jurassic as part of the Sierra Nevada batholith. These specimens were collected on the west side of the batholith, just upstream from the mouth of the Kern River gorge. When we showed it to other geologists, the first comment was, "What a pretty rock." It is a pretty rock.
Select a specimen: When more than one specimen is shown, you can select a particular specimen by telling us what is in the photo with it, a black and silver pen, a black mechanical pencil, a blue and silver pen, or one of those plus some number of coins, or you can let us make the selection.
Shipping: Priority Mail small flat rate box unless combined with other purchases.  Click > here < for shipping rates. Use back button to return to this page.
Making multiple purchases? Click on the "combine shipping" button in the shopping cart. We'll send an invoice with combined shipping. A link in that invoice will bring you back to checkout, no hassle.