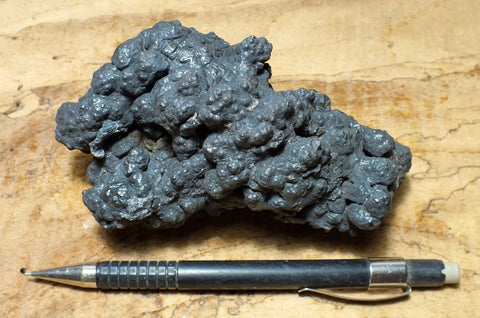 1 left
psilomelane - botryoidal psilomelane from Morocco - hand/display specimen
$ 15.00
botryoidal psilomelane  Ba(Mn2+)(Mn4+)8O16(OH)
A good example of the botryoidal mineral habit. The mineral was identified by x-ray reflectance spectroscopy. Often psilomelane is applied to any dark gray or black manganese mineral, as the early geologists could not precisely identify manganese minerals. This was collected in Morocco, but with only a label, "Alnif," on the box and with no other data.  It is possibly from a famous locality, 150 km SE of Alnif, known as Vein 12, Tadaout, Taouz Cäidat, Er-Rissani Cercle, Errachidia Province, Draa-Tafilalet Region, Morocco, with Alnif likely being the town where the dealer was located, but we are not sure. The workings along that vein stretch out over 1 km, and many similar specimens are assigned to that location.
The botryoidal form, from the Greek botrys for a bunch of grapes, occurs when many  crystalizing nuclei serve as points from which needle-like crystals grow outward radially at similar rates to form a spherical surface. These often merge together as in these specimens.
Psilomelane is distinguished from pyrolusite, with which it is often associated, by its greater hardness (5-7).
Select a specimen: When more than one specimen is shown, you can select a particular specimen by telling us what is in the photo with it, a blue or black and silver pen, a black mechanical pencil or one of those plus some number of coins, or you can let us make the selection.
Making multiple purchases? Click on the "combine shipping" button in the shopping cart. We'll send an invoice with combined shipping. A link in that invoice will bring you back to checkout, no hassle.
Shipping: By Priority Mail or USPS Ground Advantage, whichever is cheaper. Click > here < for shipping rates. See comment at Note! Use back button to return to this page.