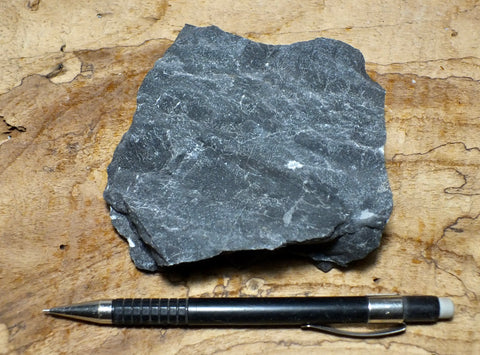 Sold Out
limestone - teaching hand specimen of a dark gray Lower Paleozoic limestone from the Darwin Hills, Calif.
$ 7.50
Back in stock soon. Inquire.
The Keeler Canyon Formation is Lower Permian to Lower Pennsylvanian in age. In the Darwin Hills and Talc City Hills it is 500 meters thick. In some areas it has abundant fusilinids. 
Limestones are bioclastic, meaning they are composed of the tiny calcareous exoskeletons of plankton, which rain continuously to the sea floor. These accumulate as calcareous ooze that lithifies with time and compaction to become limestone. This particular limestone is characterized by turbidity flow structures and was deposited as sediment flows down the continental slope.
Limestone varies in color from white, through shades of tan to gray, to black. The weathered surface is usually a lighter shade of gray. 
Shipping: Priority Mail small flat rate box unless combined with other purchases.  Click > here < for shipping rates. Use back button to return to this page.
Making multiple purchases? Click on the "combine shipping" button in the shopping cart. We'll send an invoice with combined shipping. A link in that invoice will bring you back to checkout, no hassle.