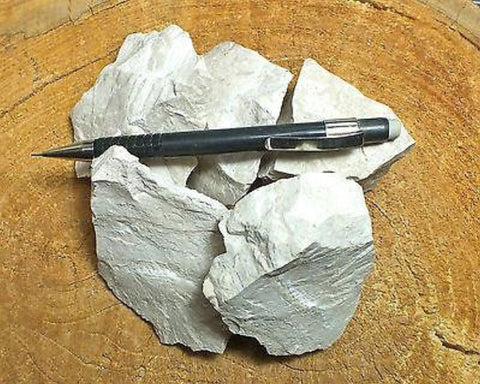 chert - student specimens of light tan chert - Unit of 5 specimens
$ 4.20
This particular chert is tan or banded tan and brown and is from a deposit associated with magnesite, magnesium carbonate, a common association. It is too soft for flint knapping, though a typical chert. It's very close to glass in hardness. We have a nice scratch from testing it on the back window of our VW van, but is difficult to get a scratch on one of our glass test plates unless you press very hard.

Chert is a cryptocrystalline variety of quartz that will break with very sharp edges. For this reason it was sought after by stone-age tool makers. Flint is the related form that is found in chalk beds. These specimens were sharp-edged when collected. Any sharp edges have been rubbed against a geologist's hammer to remove the "edge," though the specimens appear untouched. 
Chert can form in more than one way. Biochemical chert can form by solution and reprecipitation of the silica found in the shells of diatoms. This type of chert is a sedimentary rock. Chert can also form as a direct precipitation from hydrothermal fluids rich in silica. In this case it is often considered a cryptocrystalline variety of quartz like chalcedony and is thought of as a mineral. Hydrothermal alteration of lacustrine volcanic ash beds is the source of this cherty. The ash contributed silica.

If you are a science or earth science teacher purchasing this as a teaching specimen for your class, this should be compared with other varieties of quartz: agate, jasper, chalcedony and tiger eye, which are all microcrystalline or cryptocrystalline - showing no crystal structure.
The photo is representative of what we ship.
Shipping: small flat rate box unless combined with other purchases. Click > here < for shipping rates. Use back button to return to this page.  
Making multiple purchases? Click on the "combine shipping" button in the shopping cart. We'll send an invoice with combined shipping. A link in that invoice will bring you back to checkout, no hassle.